Don't give up. Trade shows can be a great source for generating leads.
Trade shows are a great way to network and drive new lead generation for your sales team. Each show is a perfect chance to display what you have to offer and what sets you apart from your competition. So what is trade show marketing and how can you benefit from it?
92% of attendees visit trade shows to see new products and learn about new services, and 81% of attendees have buying authority, so these shows are huge opportunities for your business.
Where else can you find such a captivating audience of decision-makers who are primed to make a deal? But the question really is, how do you get those people to notice you and listen to what you have to say?
What To Do To Gain Traction
If you want to have a serious impact at the next trade show you attend, there are a few things you should pay attention to. First, your image matters. Look at your marketing materials and sales collateral. Business cards, one-pages, and other booth materials should look modern and fresh. If your materials look outdated, people may walk by your booth without a second glance.
In addition, pay attention to your branding. Is the theme of your booth cohesive? Are you using colors and flourishes that make your booth stand out from others? Think about what draws your attention to a booth when you attend a trade show.
Attractive, clean spaces look inviting and will draw people in.
Next, make sure you're integrating the trade show in your social media strategy. Many trade shows now have their own hashtags, which you can use to spread the word that you'll be in attendance. Invite people to come to visit your booth, and post pictures or live video of what's happening at the show once you're there. 
Make sure you're letting your email subscribers know about the trade show too. Send out an email with information about the show, where your booth will be located on the show floor, and something to entice your prospects to stop by. A small giveaway or prize drawing can get people interested enough to seek out your booth. As the trade show draws closer, create follow-up emails to remind people that it's coming up soon.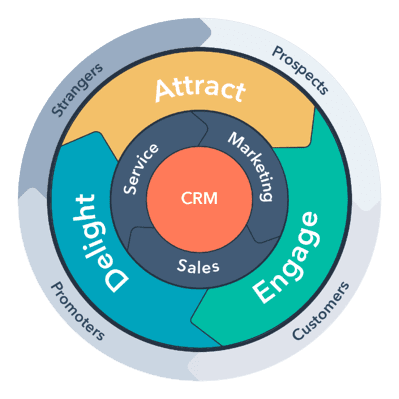 It can be a smart idea to venture outside your booth to meet people too. People approaching your booth may be hesitant to start a conversation, but if you network with others outside of your booth, they tend to feel a little more comfortable. And don't forget to smile! A smile makes you seem more friendly and approachable.
Work with Reap and Sow
While trade shows can be really exciting for businesses, they can be intimidating too. They have a lot of moving pieces and elements that make them a complicated endeavor. Regardless of the industry and size of your next trade show, we can work to help you create and implement a trade show marketing strategy that will capture qualified leads. From there, we give you the tools to nurture these relationships and eventually turn them into conversions.
And by using the tools that HubSpot has to offer, we can also help you automate the sales process and collect attribution information to help you prove your ROI when it matters. If you're ready to take your trade show marketing to the next level, contact us. Reap and Sow Marketing is proud to collaborate with our clients to ensure that they are using marketing strategies that work for their business so that they can reach their marketing and sales goals.