CRM systems have numerous benefits for businesses, including enhancing customer service, increasing customer revenue, promoting customer loyalty, and simplifying the sales and marketing process.
While CRM is essential for every business, choosing one that meets your business needs and target market can be daunting. The two most popular CRM platforms are HubSpot and Salesforce. This article compares the two CRM apps so that you can select the best one for your company.
Overview
HubSpot CRM is ideal for businesses that are looking for a CRM that is easy to set up or free to use. Consequently, it is an excellent choice for small companies and sole proprietorships. Nevertheless, HubSpot has many features that larger businesses can leverage.
Salesforce, on the other hand, aims to meet the needs of all types of enterprises. It tailor-makes its solution depending on a customer's size and needs. This CRM has exceptional developer tools for customization and robust third-party integrations. Since Salesforce has numerous features, its learning curve is relatively large.   
Comparing HubSpot and Salesforce
Functionality
HubSpot
HubSpot has a broad range of sales and marketing tools to simplify and effectively manage leads. It allows you to automate marketing activities and hence saving you time and money. HubSpot also has features for social media marketing, web analytics, landing pages, content management, and SEO.
This powerful CRM also has an intuitive sales pipeline dashboard that shows stats in real-time so that you understand where you stand regarding attaining sales quotas. Also, it offers great sync between the marketing and sales teams.
Salesforce
Salesforce has a robust catalog of powerful features to help you manage your sales pipeline. The features include opportunity management, account management, task management, and case management. Opportunity management, for example, funnels leads into your sales pipeline. This vast selection of features is ideal for larger businesses.
Among the most desirable features of Salesforce is the customization it offers. The CRM can be tailored to meet the unique needs of your business.
Cost
HubSpot
HubSpot CRM is free. However, it has paid versions divided into sales, marketing, and service hubs so that you choose the ones to add based on your needs. In a nutshell, you pay for additional tools and upgrades as your business needs grow.
Salesforce
Salesforce is a bit expensive because it is a subscription-based model. The amount you pay per month depends on the number of users and user type –Essential, Professional, Enterprise, or Unlimited. The average price is $25-300 per user per month.
Although it has an Essential plan that cost $25 per user monthly, it may not meet your business' needs. You may get yourself paying up to $150 per user per month to attain the functionality you need.
Ease of Use
HubSpot
This platform is easy to use and navigate. It has a simple layout, and all tools are easily accessible. HubSpot's dashboards are well-designed and excel at performance reporting.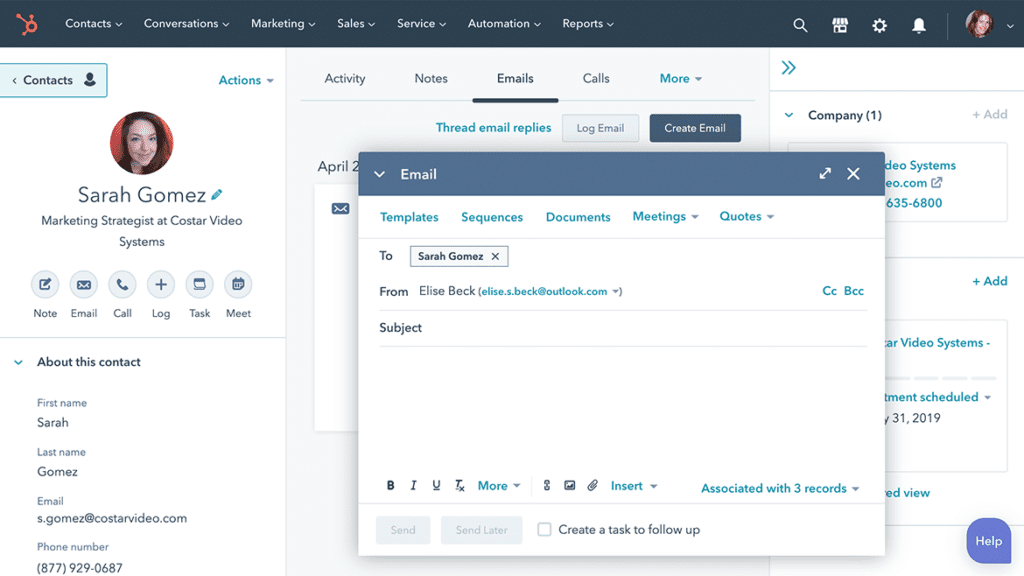 Salesforce
Salesforce CRM has a relatively high learning curve because it offers a broad range of features. Its numerous features create extra work and affects ease of use significantly, especially for beginners. However, when you learn the basics, you are good to go. Also, Salesforce has robust customer support options to resolve any issues you may encounter using the CRM.
The Verdict
Although both HubSpot and Salesforce are great CRMs, they have different features and strengths. In the CRM battle, HubSpot emerges as the winner because of its superior ease of use, great functionality, and pricing.
HubSpot CRM is the perfect option for a business looking for an easy-to-setup CRM with numerous features and affordable pricing. Contact Reap and Sow for help with HubSpot implementation.