What if there was a way to attract and retain up to three times the customers that you currently have, for the same cost?
It might sound impossible, but that's far from the truth! It can be easily accomplished with inbound marketing, which is a high-conversion strategy for lead generation and organic growth that you absolutely need to succeed.
Read on to learn what inbound marketing is, what it can do for your business, how your company can benefit from implementing it, and how Reap and Sow can help you with our experience as a Houston-based inbound marketing agency.
What is inbound marketing?
Inbound marketing is a strategy for acquiring and developing leads through the creation and distribution of valuable content. This content can be in the form of blog posts, e-books, newsletters, or social media posts. The point is that instead of directly advertising a product or service, the content itself becomes the ad.
Value is added from inbound marketing by creating an experience for the customer. Informative or educational blog posts can help illuminate relevant topics to potential leads that increase their personal knowledge, causing them to either purchase or commit to consuming further content.
Why Inbound?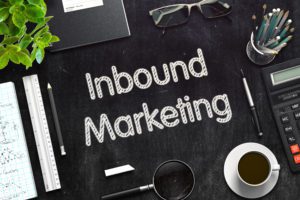 Recent statistics show that around 29% of people want to speak with a salesperson to learn more about a product; however, 62% of people will perform a web search for information on that product. They don't want to be sold, they want to sell themselves!
Inbound marketing creates an opportunity to turn those web searches into leads by providing quality information. Beyond attracting leads, inbound also improves conversions, promotes referrals, and is a great way to compile data about your ideal buyer persona.
More Leads, Less Cost
Leads are generated more organically under inbound principles than in traditional outbound marketing strategies. Also, inbound leads cost less than outbound ones, with companies that rely on inbound reportedly spending approximately $14 less per newly acquired customer. Not only are costs lower, but the same report indicates that inbound marketing leads cost 61% less than traditional lead generation tactics.
The benefits compound over time as well. The average cost of a lead drops by 80% after five months of consistent inbound marketing. Continuing to provide valuable content increases brand authority within the field occupied, and also increases conversion for leads who may need one more piece of content to persuade them.
Higher Conversion Rates
People don't trust advertisements as much as they used to. It's more important now than ever to build trust with potential customers. How is that trust built when dealing with internet leads?
Producing valuable content on a consistent basis allows your company to create a relationship with each lead. By creating informative content that they perceive value in and then continuing to deliver, you show them that you're not only knowledgeable but trustworthy and dependable. Inbound conversion often takes place once that relationship is formed.
Referral Opportunities
An added bonus to creating a relationship with your customers and providing continual value is that they become more likely to share their experience. Content that provides high enough value may give the customer incentive to share it on social media or by email with their peers. This is how inbound marketing generates leads inward rather than aggressively advertising.
Data Everywhere!
What makes inbound marketing so great is the amount of actionable data you get right away.
If a page isn't drawing as many new visitors or if another is working really well, it's clear to see from the moment the content is released. Staying on top of these data trends will help bring your conversion rates higher and your costs lower.
Why Reap and Sow?
There are a lot of ways to get into inbound marketing; enough to fill books!
If you're interested in getting started but don't know how — contact Reap and Sow inbound marketing agency in Houston. Our marketing team is inbound certified, and we are HubSpot Gold Partners, so we use the highest standards of inbound practices. At Reap and Sow we only grow the good stuff, and that's allowed us to help clients in multiple industries grow. Let's see what we can grow together!